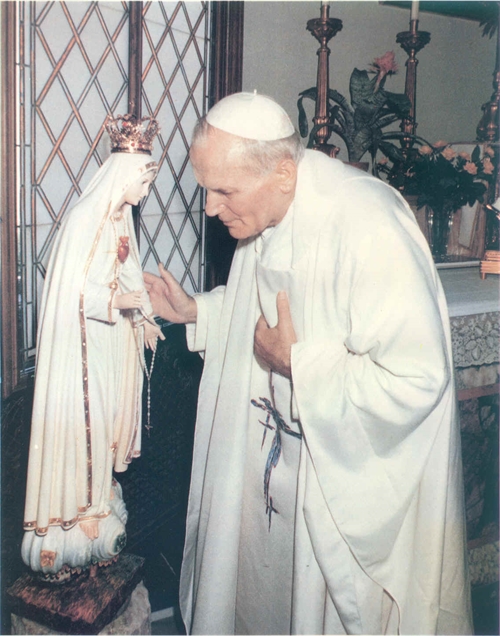 At every one of her 6 apparitions in Fatima from May to October 1917, Our Lady specifically asked for the Rosary to be said every day, and as if to emphasise its importance even further, in her final apparition on 13th October 1917 she declared: "I am the Lady of the Rosary".
It was this aspect of her message on which she placed the greatest emphasis, and the reason for it was made clear by the declaration on the Rosary by St John Paul II when he first travelled to Fatima in 1982, and subsequently in the luminous teaching on the value and power of the Rosary in one's daily life as a Catholic, in his Apostolic Letter Rosarium Virginis Mariae, issued on 7 October 2002.
he teaching in this document which is easily readable is an inspirational aid to understanding the meaning and relevance of praying the Rosary in one's daily life. It is perhaps best summarised in the following pronouncement:
"The Rosary, though clearly Marian in character, is at heart a Christocentric prayer … it has all the depth of the Gospel message in its entirety, of which it can be said to be a compendium" (Pope John Paul II – Rosarium Virginis Mariae, n. 1).
In his homily at Fatima on 13 May 1982, Pope John Paul II said that the Rosary is Mary's prayer, "in which … she herself prays with us. Take care of your inheritance of faith … do you want me to teach you the secret of keeping it ?  It is simple, Pray, pray very much, pray, recite the Rosary every day"