There is a WAF National Pilgrimage to Fatima this summer.
Fr Jason Jones, the WAF England and Wales Spiritual Director, is organising the 2019 pilgrimage. The dates are 10th-16th July.
This pilgrimage will include the special ceremonies on the twelfth and thirteenth of the month, and includes return Flights to Lisbon, half-Board in Domus Pacis hotel, and all taxes & coach tours.
For more details please visit the National Pilgrimage page.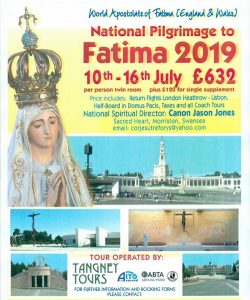 The World Apostolate of Fatima, (WAF), is an association present in many countries throughout the world which is open to all the baptized, and directed primarily to the laity.
It seeks to make known and lived the very important message of peace and salvation for all mankind given by Our Lady of Fatima, though the young seers of Fatima, Lucia dos Santos, and Jacinta and Francisco Marto, and to explain why this message is so important.
On 7 October 2005 its international statutes were approved ad experimentum by the Pontifical Council for the Laity, and on 7 October 2010 it was permanently erected as an international Public Association of the Faithful by Cardinal Rylko, President of the Pontifical Council for the Laity. This confirmed that the World Apostolate of Fatima is in full communion with the Holy See and that its purpose is, according to its statutes: 1) promoting the authentic teaching of the Church in adherence to the tenets of the Gospel; 2) the personal sanctification of its members through faithful adherence to the message of Fatima; 3) promoting the common good by spreading the message of Fatima; 4) promoting the Pledge given by each member of the WAF. The World Apostolate of Fatima has millions of members in 57 countries.
You can see the latest news about WAF England and Wales events, including Visitations of the National Pilgrim Virgin Statue of Our Lady of Fatima, here…
You can see information about the WAF annual National Pilgrimage here, and our October Rosary campaign here.