By 1925 Lucia, who was now 18, had become a postulant with the Sisters of St Dorothy at Pontevedra in Spain, and on Thursday 10 December, the Blessed Virgin appeared to her and by her side, elevated on a luminous cloud, was the Child Jesus. Lucia recounted that Mary rested her hand on her shoulder, while showing her a heart encircled by thorns which she was holding in her other hand.
The Child Jesus spoke first: "Have compassion on the Heart of your Most Holy Mother. It is covered with the thorns with which ungrateful men pierce it at every moment, and there is no one to remove them with an act of reparation."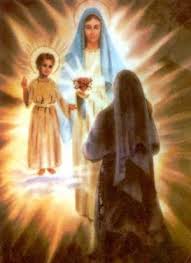 Then Mary said:
"My daughter, look at My Heart surrounded with thorns with which ungrateful men pierce me at every moment by their blasphemies and ingratitude. You, at least, try to console me, and say that I promise to assist at the hour of death, with the graces necessary for salvation, all those who, on the first Saturday of five consecutive months go to confession and receive Holy Communion, recite five decades of the Rosary and keep me company for a quarter of an hour while meditating on the mysteries of the Rosary, with the intention of making reparation to me."
The Child Jesus again appeared to Lucia in February 1926 to encourage her to propagate this devotion, and additionally on the night of 29-30 May 1930, as she was praying before the Blessed Sacrament, she received an interior locution from Our Lord in which He said that people who had difficulty in getting to confession on the Saturday could do so within eight days, or longer still, provided that "when they receive Me they are in the state of grace and have the intention of making reparation to the Immaculate Heart of Mary" (Fatima in Lucia's Own Words, vol I, pp. 193-196).
Also, Our Lord explained that the Communion of Reparation was to be made on five first Saturdays in reparation for the five kinds of offences and blasphemies uttered against Our Lady, namely: blasphemies against the Immaculate Conception, against Our Lady's perpetual virginity, against her divine maternity and refusal to recognise her as the mother of mankind, blasphemies by those seeking to alienate children from her, and in reparation for those who outrage Our Lady in her sacred images.